Sculpture Artwork
The Gregory Pyra Piro clock sculpture
An amazing scultpre where there are sculptures within themselves. Work with incredible detail an orginal by artist Gregory Pyra Piro made in the '10s.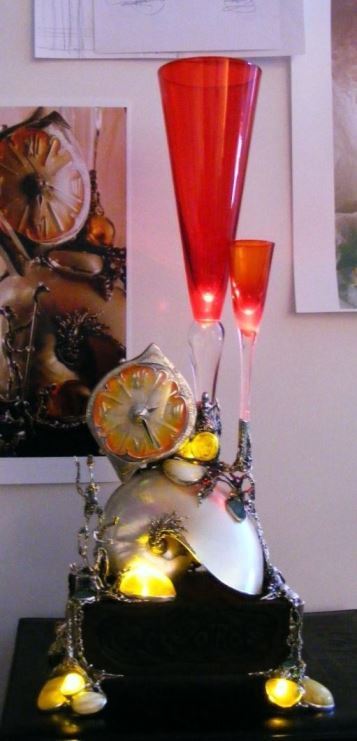 The base of the sculpture is made from oakwood. The base metal is in sterling silver which has solid 14 karat gold accents. The clock has an enamel coating. The glasses with the clock sit on a nautilus shell. The sculpture has a combination of amber with drusy, pearls, and natural faceted gemstones. The gemstones include peridot and garnet.
The amber is lit up with LED lights to give the clock a special effect.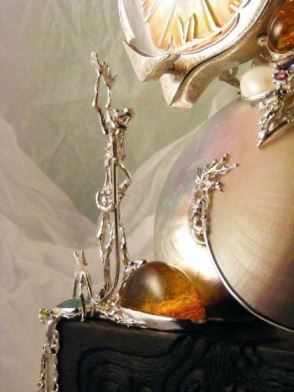 Each part of the sculpture is intricate in detail and is a sculpture within itself.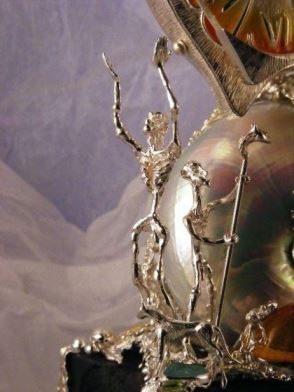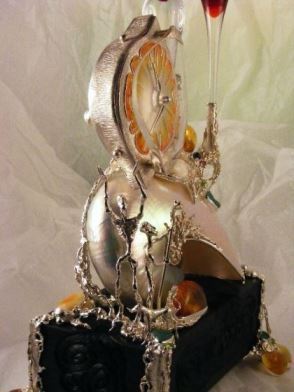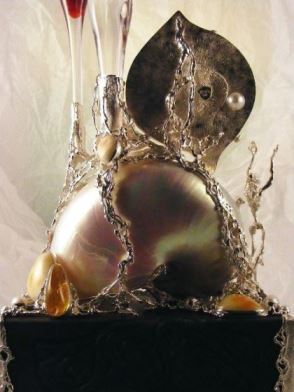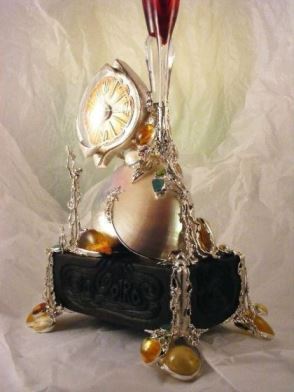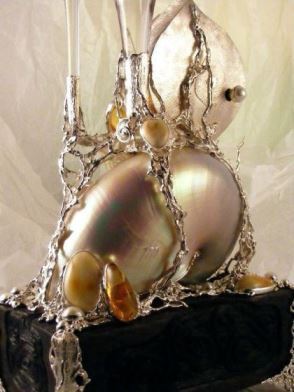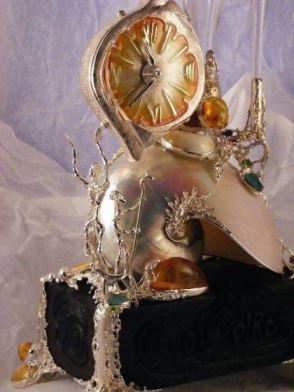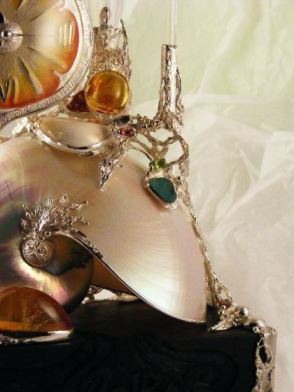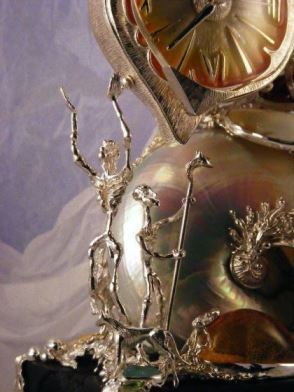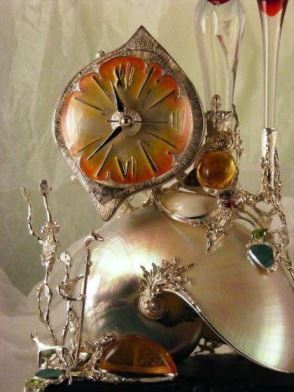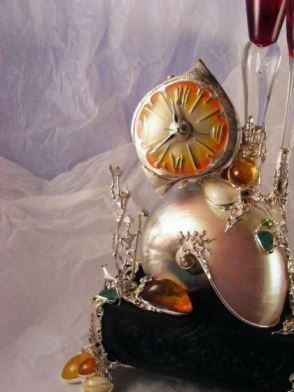 Gregory Pyra Piro's originally started creating art and jewellery in Poland since the early 1970s having experience with galleries showing artisan jewellery and musuems. His experince extended to Sweden in the 1970s, the United States through American fine craft galleries in the 1980s, 1990s, and 2000s, and Germany where his work was shown at the Pforzheim Jewllery Museum in the 1970s.
Below are some examples of works created back in the past in the 1970s in Poland and Sweden. Original works included works from silver, amber, and addition of other gemstones such as amethyst, pearls, ammonite, and abalone. Some of his works had made their way to museums where his collections still can be seen in Malbork and Gdansk. Gregory didn't just make jewellery, but also made different forms of work such as cups, mirrors, chalices, etc.


Gregory Pyra Piro Chalices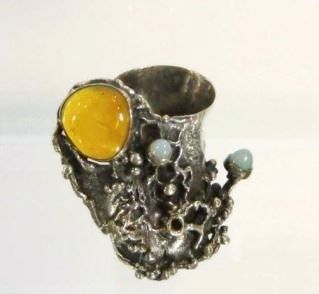 Gregory Pyra Piro silver cup with gemstones
Materials for these works other than just silver and amber, also included ebony wood, glass, shells, pearls, etc.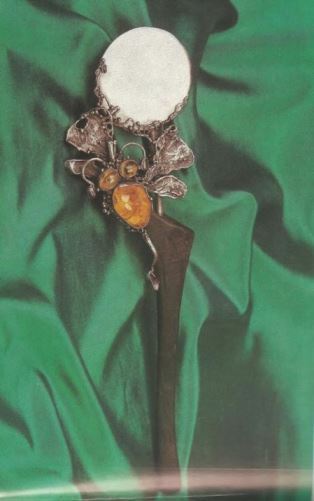 Gregory's work was always unusually creative and very technically advanced, was usually one of the most unique in Poland, Sweden, and also Europe.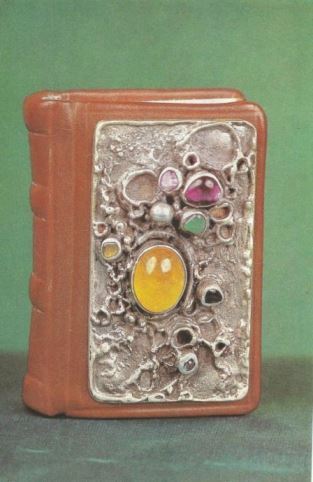 In the '70s Gregory also created jewellery in Sweden. In 1976 he had a show Tidö Slott, in Tidö-Lindö, Sweden where he received a special order for Queen Silvia's and Karl Gustav's the XVI wedding.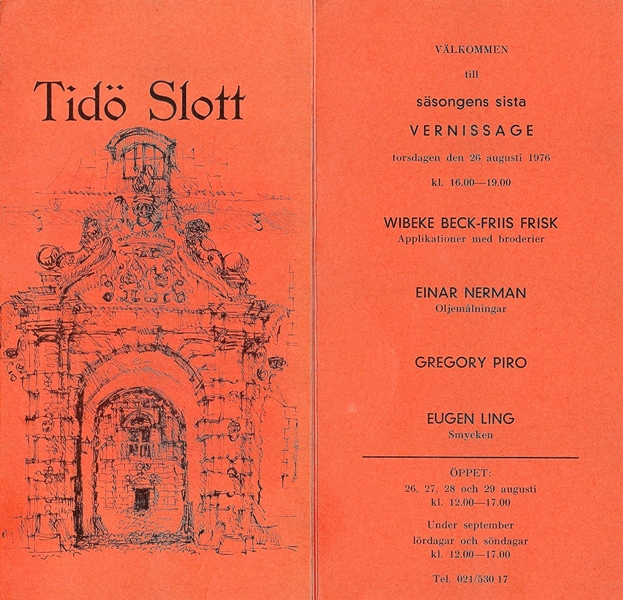 From the '80s to '00s, Gregory created jewellery in the United States where many top gift shops and top art and craft galleries carried his work for a number of years, around the entire country. Also from the '80s until the present Gregory painted Still Life and Surrealism, which recent works can be seen below.
In the US there were hundreds of collectors of his jewellery. Meanwhile since '00s, a few pieces have also made there way around Europe and to Australia with the help of it being discovered on the internet. To see new work recently made please click the link below.
Youtube playlist of Gregory's recent work. Click the video to watch the playlist.
Youtube playlist of Gregory's recent work. Click the video to watch the playlist.
Youtube playlist of Gregory's recent work. Click the video to watch the playlist.