new jewellery and paintings
own jewellery you see here and become a collector
Square Ring #8391
original handcrafted, sterling silver, 14 karat gold, blue topaz, pearls
Square Ring #8391
original handcrafted, sterling silver, 14 karat gold, blue topaz, pearls
Bicycle Pendant #1950
sterling silver, 14 karat gold, amethyst, blue topaz, pearl, amber, original handmade
Bicycle Pendant #1950
sterling silver, 14 karat gold, amethyst, blue topaz, pearl, amber, original handmade
Jewellery Set, Bicycle Pendant #1950 & Square Ring #4822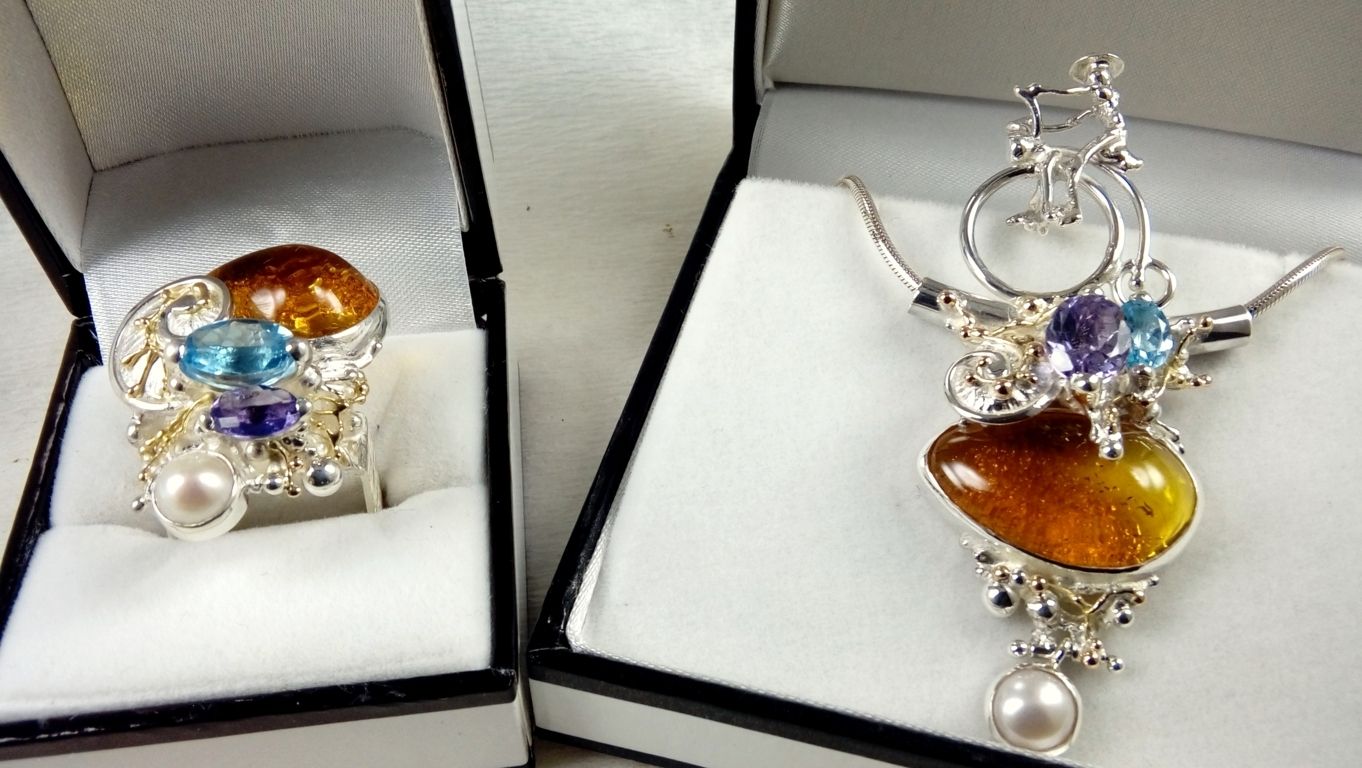 Jewellery Set, Bicycle Pendant #1950 & Square Ring #4822
sterling silver, 14 karat gold, amethyst, blue topaz, pearl, amber, original handmade
Earrings #3251
sterling silver and 14 karat gold, blue topaz, pearls, original handmade, one of a kind jewellery
Earrings #3251
sterling silver and 14 karat gold, blue topaz, pearls, original handmade, one of a kind jewellery
Earrings #3251
sterling silver and 14 karat gold, blue topaz, pearls, original handmade, one of a kind jewellery
Square Ring #4822
sterling silver, 14 karat gold, amethyst, blue topaz, pearl, amber, original handmade
Square Ring #4822
sterling silver, 14 karat gold, amethyst, blue topaz, pearl, amber, original handmade
purchase online
Square Ring #4821
sterling silver, 14 karat gold, fluorite, amethyst, iolite, pearl, original handmade
Square Ring #4821
sterling silver, 14 karat gold, fluorite, amethyst, iolite, pearl, original handmade
Purchase ring #4821 online here
Square Ring #4821 and Square Ring #4822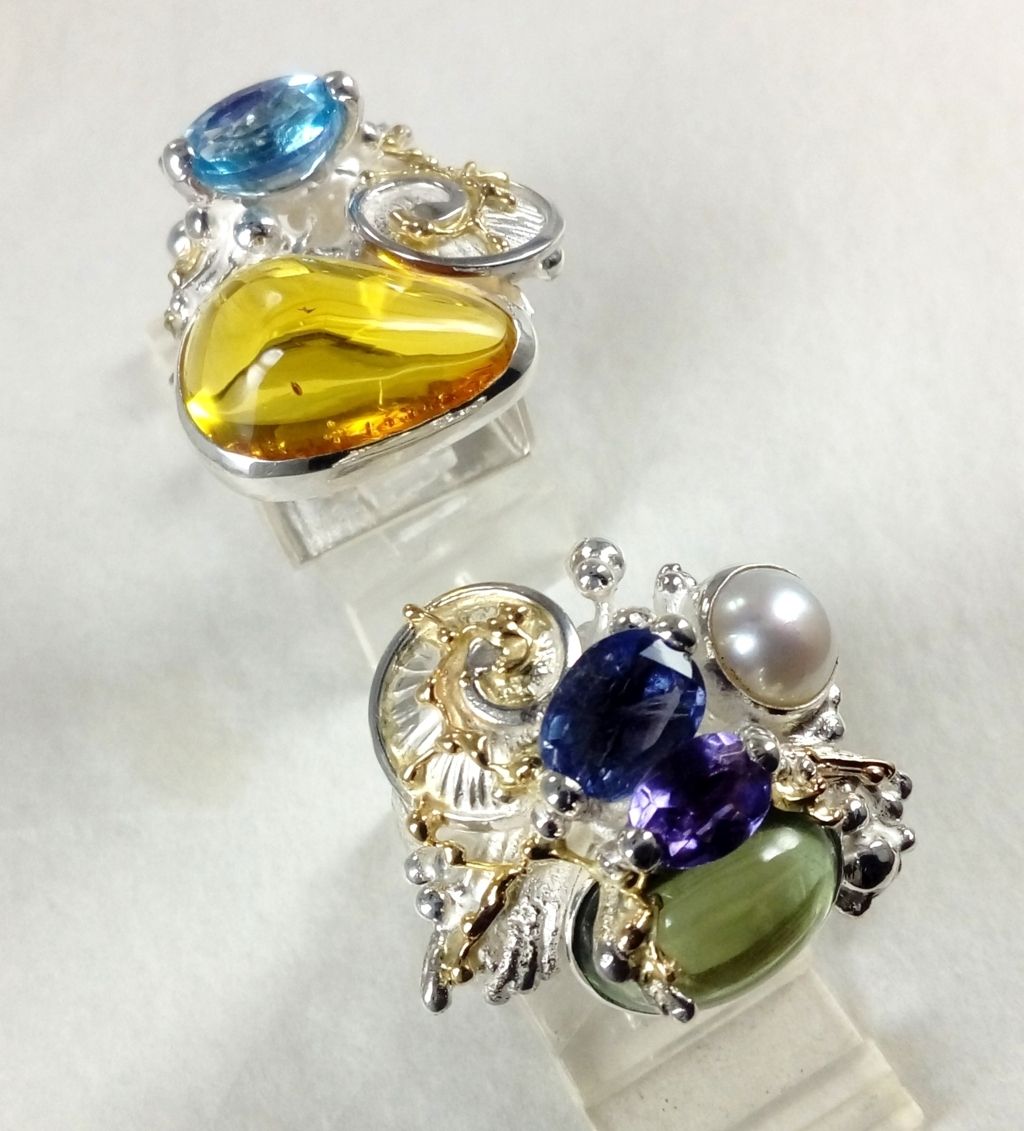 Square Ring #4821 and Square Ring #4822
Collection of Gregory Pyra Piro Square Rings
One of a Kind Earrings and Ring Set with Variety of Gemstones
Pendant #2650 and Ring #1725 Set
Pendant #2650 and Ring #1725 Set
original handcrafted in sterling silver with solid 14 karat gold, iolite, citrine, amethyst, pearl
Pendant #2650
Pendant #2650
original handcrafted in sterling silver with solid 14 karat gold, iolite, citrine, amethyst, pearl
Piro Square Ring #1725
original handcrafted in sterling silver with solid 14 karat gold, iolite, citrine, amethyst, pearl
Piro Bracelet Watch #8394
original handcrafted in sterling silver with solid 14 karat gold, amber, drusy, garnet, citrine, green tourmaline, peridot
Piro Bracelet Watch #8394
original handcrafted in sterling silver with solid 14 karat gold, amber, drusy, garnet, citrine, green tourmaline, peridot
Handmade One of a Kind Contemporary Ring #2631
original handmade in sterling silver with solid 14 karat gold, amethyst, garnet, citrine, pearl
Handmade One of a Kind Contemporary Ring #2631
original handmade in sterling silver with solid 14 karat gold, amethyst, garnet, citrine, pearl
Women's Handcrafted Fashionable Accessories, Bracelet Watch
Women's Handcrafted Fashionable Accessories, Pendant Watch
Women's Handcrafted Fashionable Accessories, Earrings Collection
Gregory Pyra Piro Designs For Women's Fashion Accessories For Glamour & Outfit Styling Cyber Ring #1565
original handmade in sterling silver with solid 14 karat gold, amethyst, citrine, peridot, pearl, biwa pearl
Handmade One of Kind Contemporary Ring #2050
the actual piece offered is in this video, only one is available, click the video to play
Handmade One of Kind Contemporary Ring #2050
original handmade in sterling silver with solid 14 karat gold, pink tourmaline, garnet, amethyst blue topaz, pearls
Click Here Now To See Archive of Gregory Pyra Piro One of a Kind Art Jewellery
Click Here Now To See New Work
back to top
----- Our Links -----
If you manage a website and would like to exchange links with us here is our html code
<a href="http://www.designerartjewellery.com/contemporarypendants.htm </a> Designer Jewelry Artist Gregory Pyra Piro Art Jewelry </a> - Original handmade pendants, artisan handcrafted jewelry in sterling silver with accents of gold with natural gemstones.
1 Webs Directory - A Human edited Online Business Web Directory organized by category, along with brief information on each and every category included in the Web Directory. Lists content rich, informative and well designed web sites for the benefit of general internet users. Submit your website URL and get listed.
Pyrrha Necklace - Blueluxe offers the Seals Line from Pyrrha. The sterling silver, bronze and 14k gold Seals line express symbolic sentiment through the casting of authentic 19th century wax seals.
Adina Reyter Handmade Jewelry - Designer Adina Reyter handcrafts celebrity jewelry including her famous circle pendant necklace. The contemporary, simple design complements any personal style and is the perfect accessory for any outfit. BlueLuxe carries the full line of Adina jewelry in both gold and silver.