how to order
new jewellery and paintings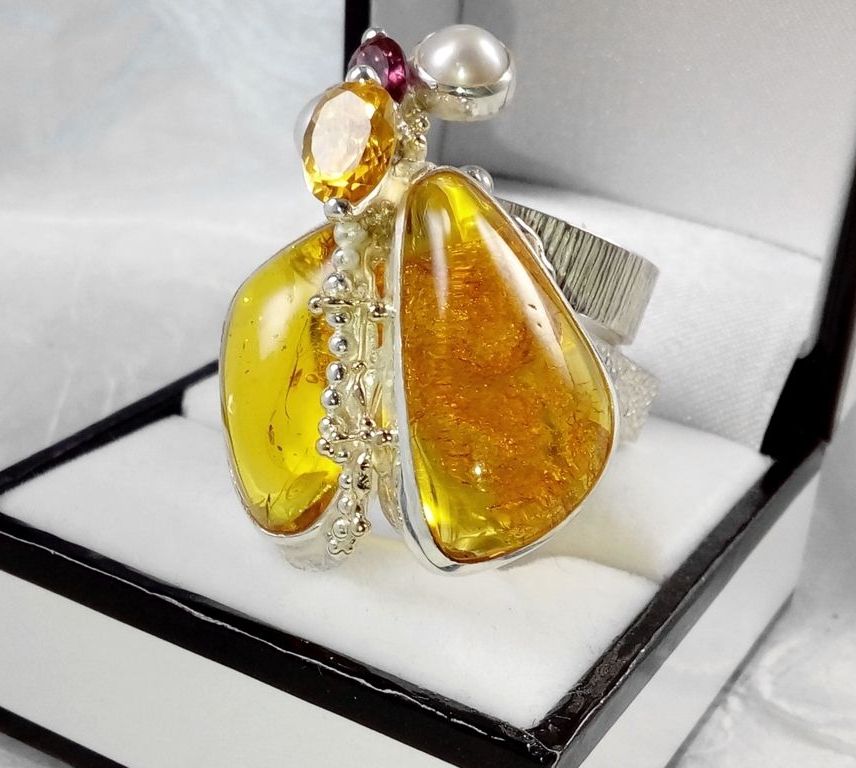 Close x
Cyber Ring #43926
original handmade
one of a kind
Cyber Ring #43926
sterling silver, 14 karat gold, amber, rhodolite, citrine, pearls, some may ask are there bugs in the amber, but here the ring is that insect bug itself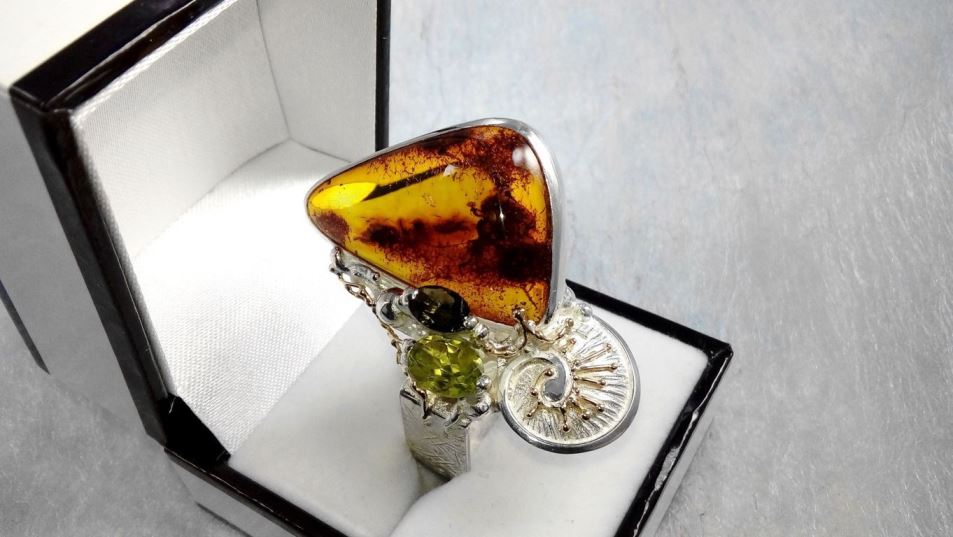 Close x
Square Ring #30164
original handmade
one of a kind
Square Ring #30164
original handmade in sterling silver with solid 14 karat gold, amber, peridot, green tourmaline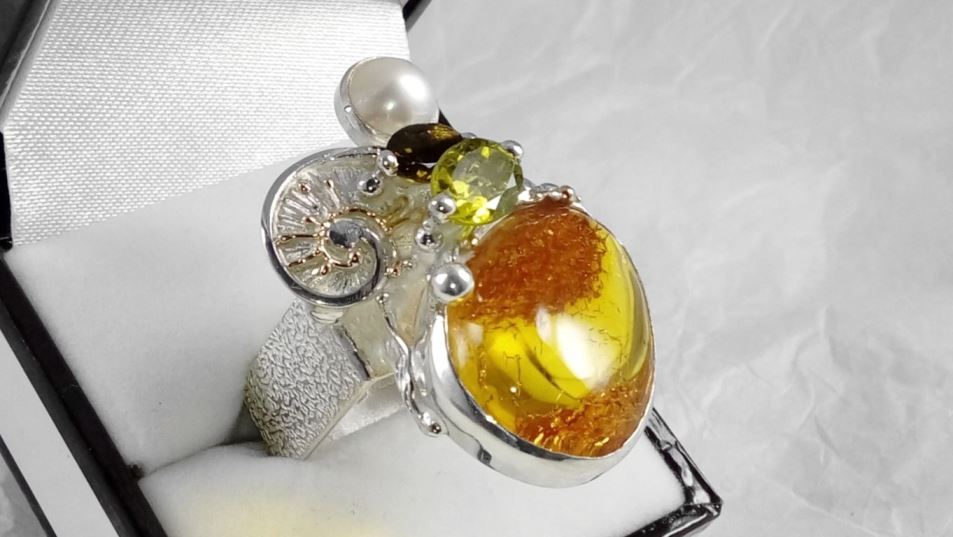 Close x
Square Ring #84942
original handmade
one of a kind
Square Ring #84942
original handmade in sterling silver with solid 14 karat gold, amber, peridot, green tourmaline, pearl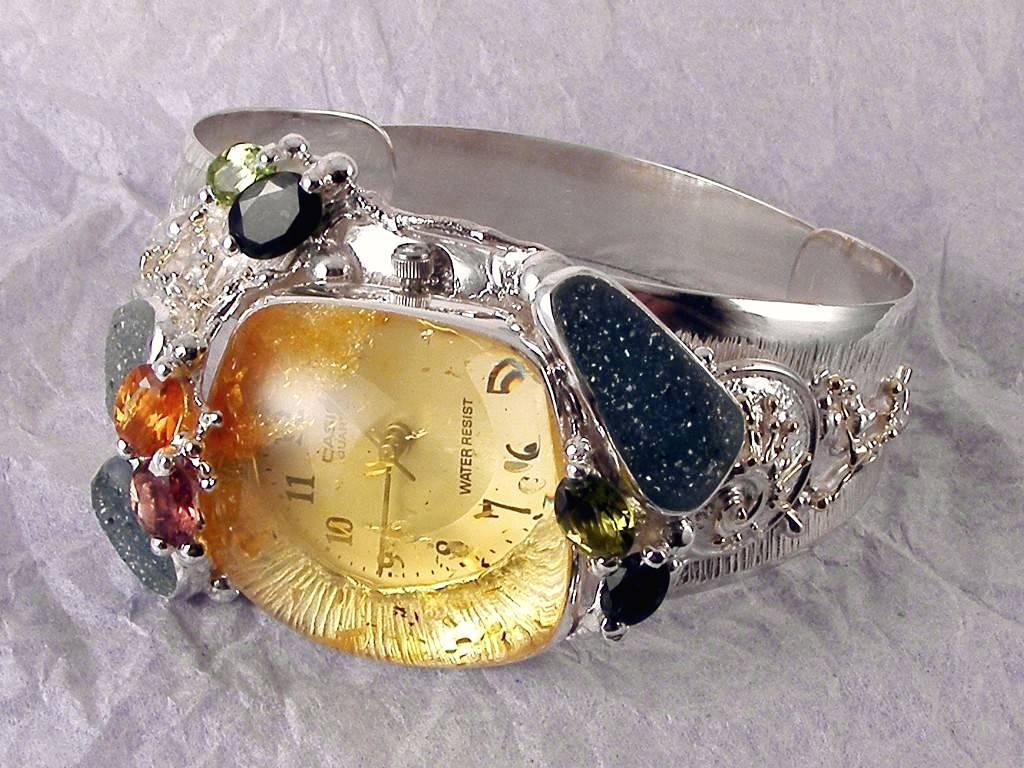 Original One of a Kind Handmade Bracelet Watch #8394
Original One of a Kind Handmade Bracelet Watch #8394
original handmade in sterling silver with solid 14 karat gold, amber, drusy, garnet, citrine, green tourmaline, peridot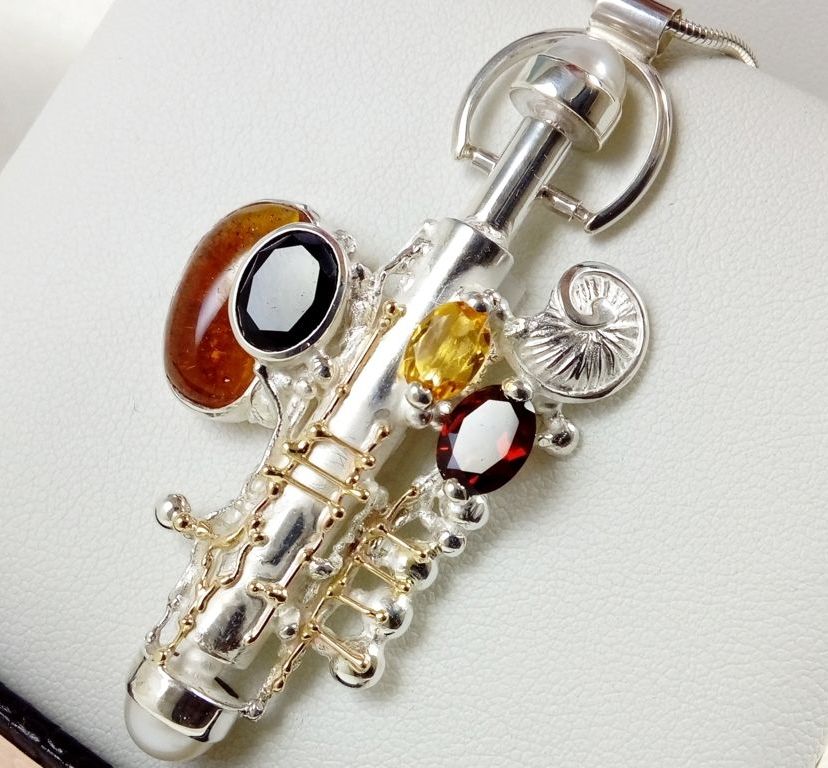 Close x
Piro Perfume Bottle Pendant Collectible #365429
Piro Perfume Bottle Pendant Collectible 342862
the actual piece offered is in this video, only one is available, click the video to play
Piro Perfume Bottle Pendant Collectible #342862
original handmade in sterling silver with solid 14 karat gold, amber, black onyx, citrine, garnet, pearls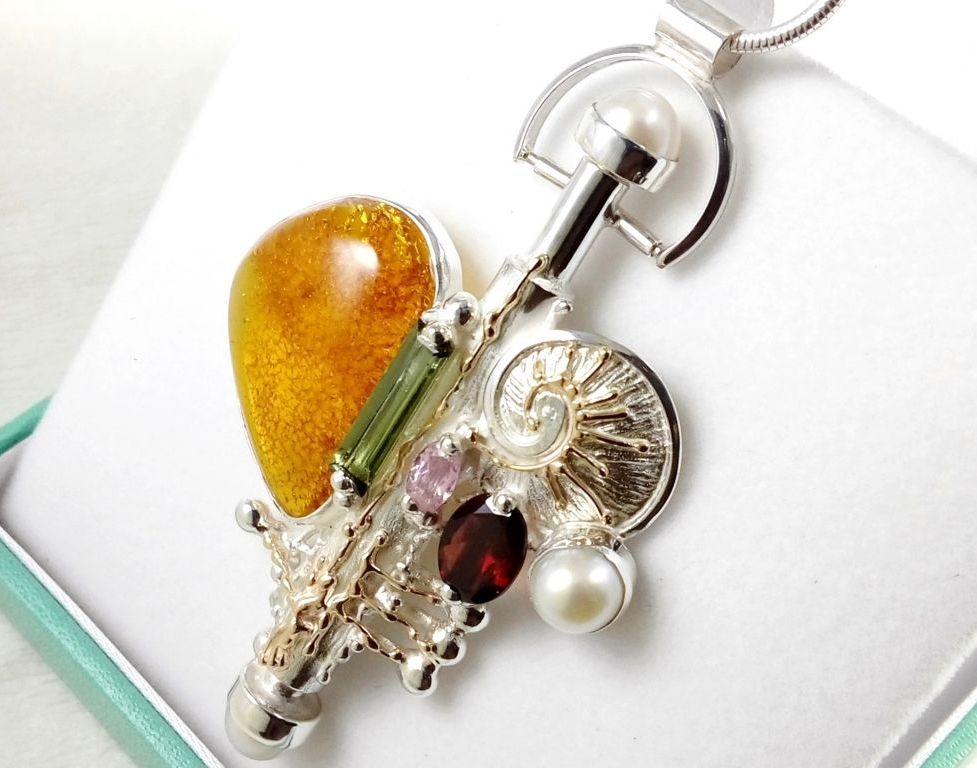 Close x
Piro Perfume Bottle Pendant Collectible #365429
Piro Perfume Bottle Pendant Collectible #365429
the actual piece offered is in this video, only one is available, click the video to play
Piro Perfume Bottle Pendant Collectible #365429
original handmade in sterling silver with solid 14 karat gold, amber, green tourmaline, pink tourmaline, garnet, pearls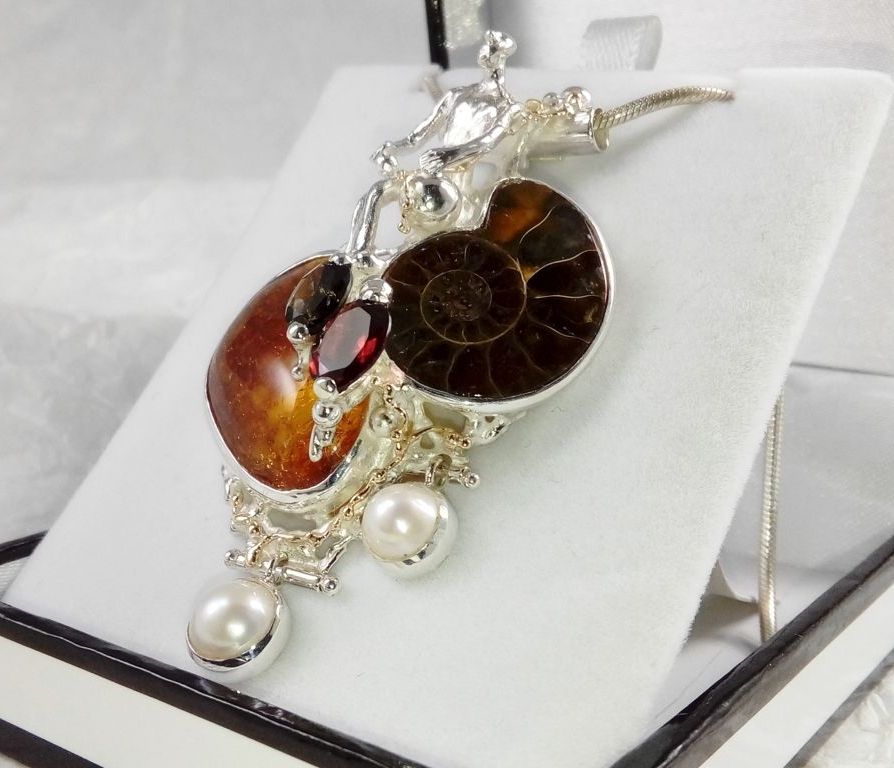 Close x
Pendant #68375, Prehistoric Time Traveler, Ammonite, Amber, Silver, Gold, Pearls
Pendant #68375, Prehistoric Time Traveler, Ammonite, Amber, Silver, Gold, Pearls
the actual piece offered is in this video, only one is available, click the video to play
Pendant #68375, Prehistoric Time Traveler, Ammonite, Amber, Silver, Gold, Pearls
original handmade in sterling silver and 14 karat gold, amber, garnet, green tourmaline, pearl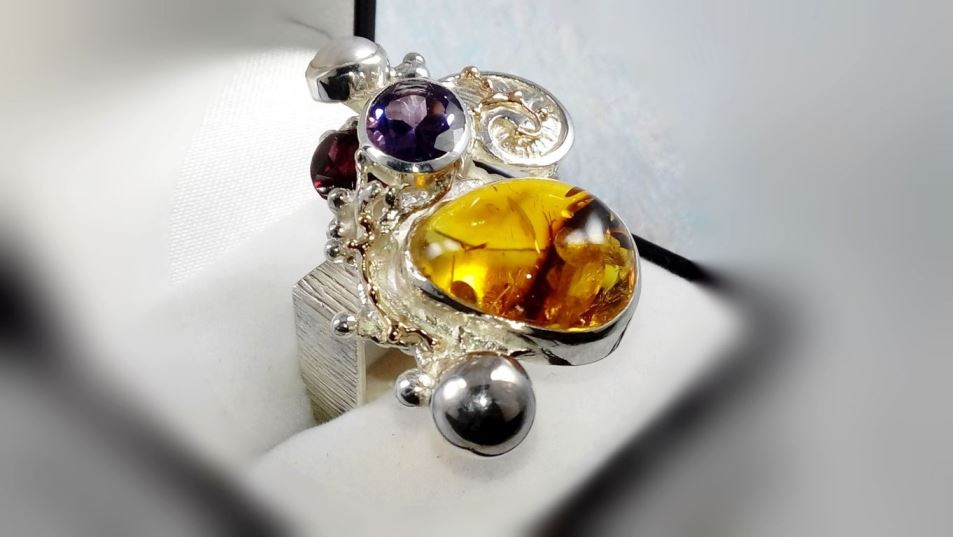 Close x
One of a kind original handcrafted (this is not casting) with superb detail craftsmanship and superb quality finish, only one available Amber Ring #1710
One of a kind original handcrafted (this is not casting) with superb detail craftsmanship and superb quality finish, only one available Amber Ring #1710
One of a kind original handcrafted (this is not casting) with superb detail craftsmanship and superb quality finish, only one available Amber Ring #1710
One of a kind original handcrafted (this is not casting) with superb detail craftsmanship and superb quality finish, only one available Amber Ring #1710
original handmade in sterling silver with solid 14 karat gold, amber, amethyst, garnet, pearl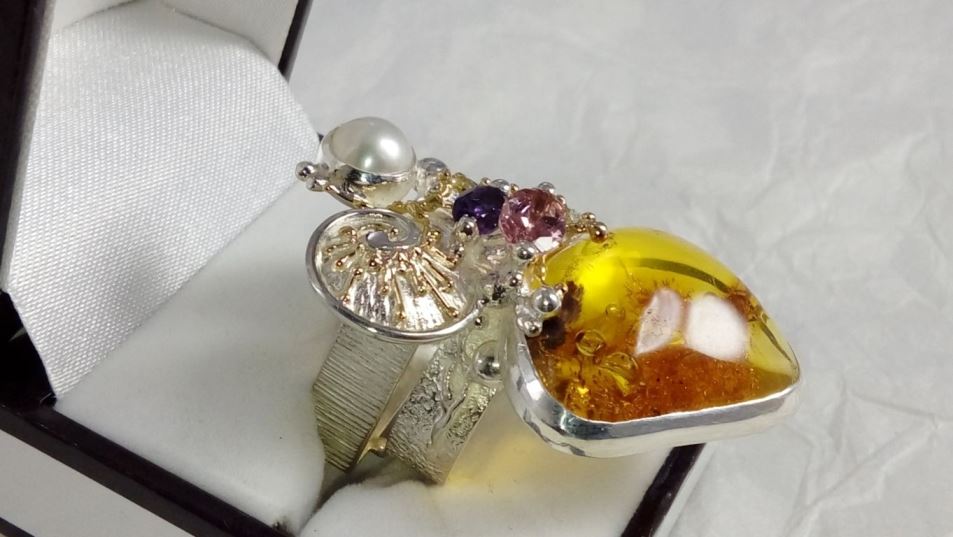 Close x
One of a Kind Wearable Art, Original Handcrafted, Only One Available Ring #53869
the actual piece offered is in this video, only one is available, click the video to play
One of a Kind Wearable Art, Original Handcrafted, Only One Available Ring #53869
original handmade in sterling silver with solid 14 karat gold, amber, amethyst, pink tourmaline, pearl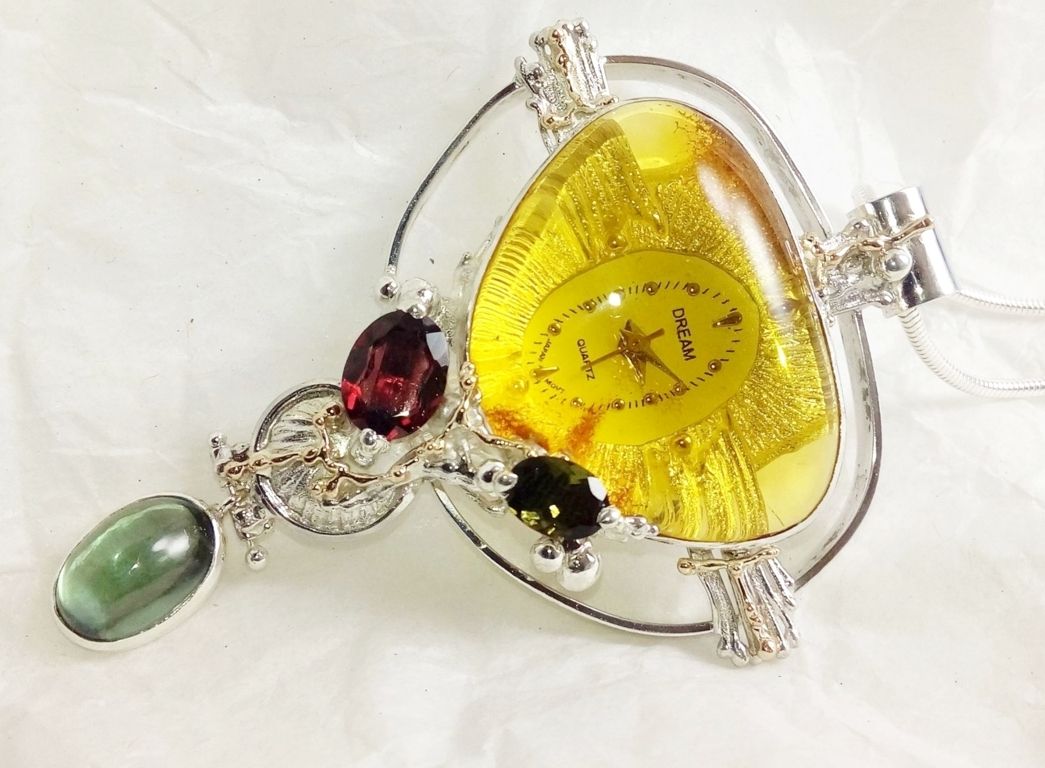 Close x
Pendant with Watch Movement #837264
the actual piece offered is in this video, only one is available, click the video to play
Pendant with Watch Movement #837264
sterling silver, gold, amber, fluorite, garnet, and green tourmaline, original handmade, one of a kind jewellery
Click Here To See Archive of Gregory Pyra Piro One of a Kind Art Jewellery
Click Here to See New Work
back to top
----- Our Links -----
If you manage a website and would like to exchange links with us here is our html code
<a href="http://www.designerartjewellery.com/amberjewelry.htm> Mixed Metal Jewelry, Designer Jewellery, Art Jewellery, Jewelry Artist, Gregory Pyra Piro, Gabriel Pyra, and The Piro Group. </a> - Amber Jewellery, Amber Rings, Amber Pendants, Amber Necklaces, Amber Bracelets.

Jewel In The Crowd UK - Unique amber jewellery online store with amber pendants, bracelets, rings and amber necklaces at jewelinthecrowd uk
Fine Art Auctions - Addisons Auctioneers in Barnard Castle, County Durham are specialists in Fine Art Auctions, Antiques Auctions & Jewellery Auctions in North East England, UK.
Silver Jewellery - A stunning range of Silver Jewellery, Amber Jewellery and Men's Jewellery.
Baltic Amber - A website about amber, history of amber, and where it is from.
UAB Amber - An amber museum and gallery of amber artwork in Vilnius, Lithuania
The Amber Portal - A list of places displaying collections of amber artworks.
Dominican Amber Museum - An amber museum in the Dominican Republic.
Copyright © designerartjewellery.com
All Rights Reserved
Click Here to Reset This Page
Click Here to Reset This Page