Gregory Pyra Piro
Designer Jewelry, Art Jewelry, U Rings, Designer Rings Handmade
Ring #3928
sterling silver and 18 karat gold, peridot, blue topaz, pearl
Ring #2792
sterling silver and 18 karat gold, peridot, blue topaz, pearl
Piro Ring #8014
sterling silver and 18 karat gold, blue topaz, peridot, opal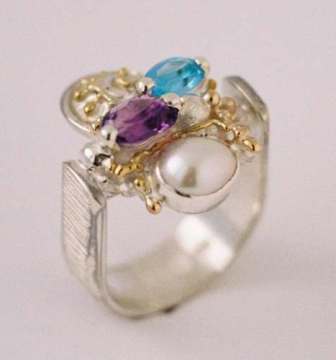 Piro Ring #3980
sterling silver and 18 karat gold, amethyst, blue topaz, pearl
Piro Ring #8630
sterling silver and 18 karat gold, peridot, blue topaz, pearl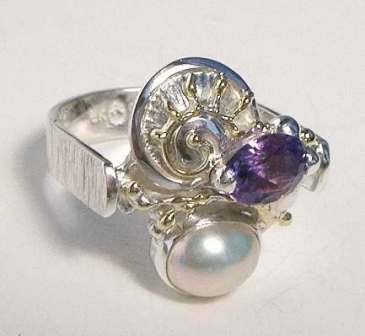 Piro Ring #8430
sterling silver and 18 karat gold, peridot, blue topaz, pearl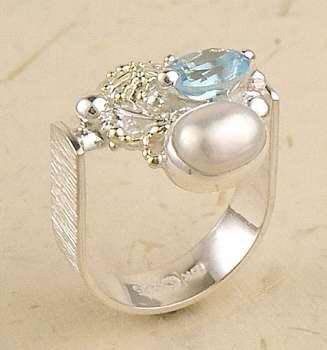 Piro Ring #8651
sterling silver and 18 karat gold, blue topaz, pearl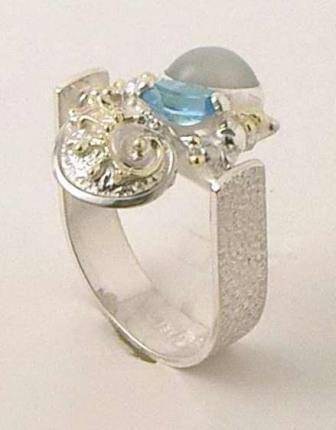 Piro Ring #8680
sterling silver and 18 karat gold, blue topaz, moonstone
Piro Ring #6381
sterling silver and 18 karat gold, amber, garnet
Piro Ring #8016
sterling silver and 18 karat gold, garnet, citrine, glass
Piro Ring #9012
sterling silver and 18 karat gold, garnet, pink tourmaline
previous page
next page
Gregory Pyra Piro, Designer Jewelry, Art Jewelry, U Rings, Designer Rings, Handmade Rings
Keep up with updates of Piro unique art jewellery
on Google +
Follow us on Twitter
Follow us on Pinterest
Make friends with us on Facebook
Subscribe to us on Youtube
U Rings Gregory Pyra Rings
One of the ring styles by jewelry artist Gregory Pyra Piro are the U Rings, shown on this page. The U rings have a u shape shank, which is made in sterling silver. The U rings like other Gregory Pyra rings have a sterling silver base and have 18 karat gold accents. The 18 karat gold accents are solid 18 karat gold and are soldered onto the sterling silver base. If the rings need to be repolished there is not problem that the solid 18 karat gold accents would polish off like gold plated ones, and the rings can be repolished as many times as needed without loss of gold on them. The U rings come with a variety of faceted gemstones, which usually include: amethyst, blue topaz, citrine, garnet, peridot, and tourmaline. These faceted gemstones are natural and are the center or the main stones in the ring. The rings may additionally have melee stones which are smaller in size and they may include: diamonds, emeralds, blue sapphires, white sapphires, and rubies.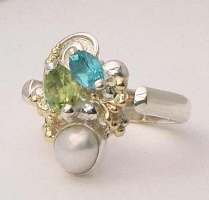 One of the Piro art jewelry gem stone combinations, blue topaz and peridot, is available for the u rings such as is in Piro u ring design #8630, a blue blue topaz, pearl ring, and peridot ring.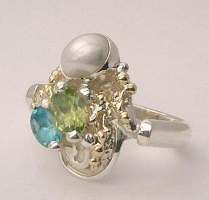 Would you like to order any of these jewellery pieces?
Gregory Pyra Piro rings in sterling silver and 18k Gold with various gemstones including the cyber ring, the u ring, and the band ring. One of the more contemporary jewelry styles in Gregory Pyra Piro designer jewelry designs are the u rings or u shape shank rings. The u rings have sterling silver base and 18 karat gold accents, or can be ordered as all gold. They may have gemstones of various combinations. The gemstones include: amethyst, blue topaz, citrine, garnet, peridot, tourmaline, and sometimes small diamonds may be included with materials such as opal, ammonite, amber, glass, sea glass, mother pearl, and pearls. The designs of u rings can be very creative making each piece special and unique.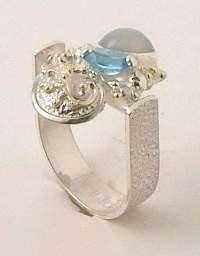 blue topaz is available in Piro u rings with moonstone such as is in ring design #8680, which is a moonstone ring and a blue topaz ring.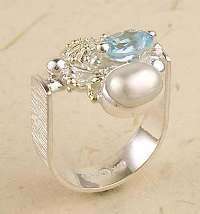 blue topaz is available in Piro u rings such as is in ring design #8650, which is a pearl ring and a blue topaz ring.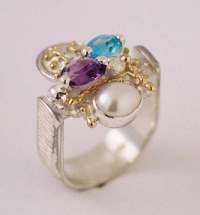 The amethyst and blue topaz combination is available in Piro u rings, for example, in design #3980, which is a pearl ring, amethyst ring, and a blue topaz ring.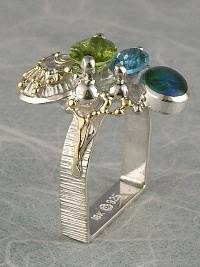 A unique combination in a unique u ring by jewelry artist Piro is u ring #1100 (image above) in sterling silver and 18 karat gold with Australian opal, peridot, and facet cut blue topaz. The blue and green colors are fashion colors. It is unique to mix the opal with the facet cut gemstones of blue topaz and peridot, a combination used in Piro art jewelry designs.
Bookmark Our Site!
Keep up with updates of our works
on Google +
Follow us on Twitter
Follow us on Pinterest
Make friends with us on Facebook
Subscribe to us on Youtube
A Word about Piro Art Jewellery
Not beads, not faceted casting jewellery, but unique jewellery, which is Gregory Pyra Piro's own style. This is the reason you must bookmark our website to your favourites. Because here is where you will find this art jewellery
Why else is this unique jewellery?
The rare combination of metals of sterling silver and 18 karat gold that already in itself makes it unique. Our jewellery is very different than the kind you find in jewellery stores. Some of this type of jewellery you may find on our Pinterest board. Please
click here.
How much does it cost?
Handmade by artist jewellery and one of a kind jewellery is priced individually. But, to get the general idea how much handmade jewellery in sterling and 18k gold costs please
click here.
How can you order?
The best way to order is to just contact the artist.
----- Our Links -----
If you manage a website and would like to exchange links with us here is our html code
<a href="http://www.designerartjewellery.com/u rings.htm > Designer Jewelry Artist Gregory Pyra Piro </a> - Original Jewelry Artist Piro Handmade Rings in Sterling Silver and Gold with Gemstones.
Copyright © designerartjewellery.com
All Rights Reserved