Gregory Pyra Piro Handmade One of a Kind Jewellery with Seaglass
A combination of sea glass with natural faceted gemstones together? Click Here
Many people go to the beach to collect glass that has washed up on the beach shore. Some people call it beach glass. Some people call it ocean glass. But beach glass or ocean glass, may otherwise also be known as sea glass. However one calls it most of the time sea glass is placed in less expensive handmade jewellery. But howabout combining this sea glass together with faceted gemstones? Yes, the same faceted gemstones that you would find in a bit more expensive jewellery? What would happen? Well here it is. The combination of sea glass with the bit more expensive facet cut gemstones, together. Click the "close button" and scroll down this page to see some work with sea glass and facet cut gemstones!
close
How to Order?
Click Here
1. Please write down the style numbers #'s of the pieces you're interested in and email us for prices


[email protected]


2. Click the button below if you would like to purchase
How to Purchase
Click Here
To purchase:
1. We need your name and delivery address
2. Style number # and description of the piece
3. Your Ring size for rings
4. Your Payment
email your request to

[email protected]
In case we communicate via correspondence any private information exchanged will not be given out or shared with any third parties.
Close
Handmade One of a Kind Jewellery with Seaglass #57230
original handmade in sterling silver with soldered solid gold accents (safe to repolish), black onyx, seaglass, and pearls
One of a Kind Handmade Bracelet with Seaglass #2860
original handmade in sterling silver with soldered solid gold accents (safe to repolish), sea glass, amethyst, green tourmaline, pink tourmaline, pearls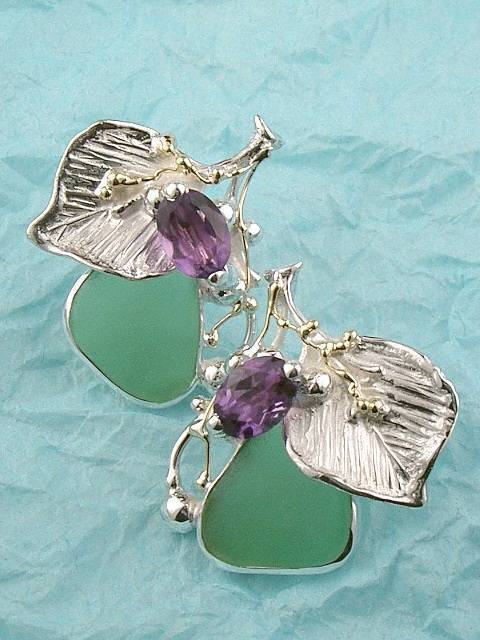 One of a Kind Handmade Pendant with Seaglass #9439
original handmade in sterling silver with soldered solid gold accents (safe to repolish), sea glass, amethyst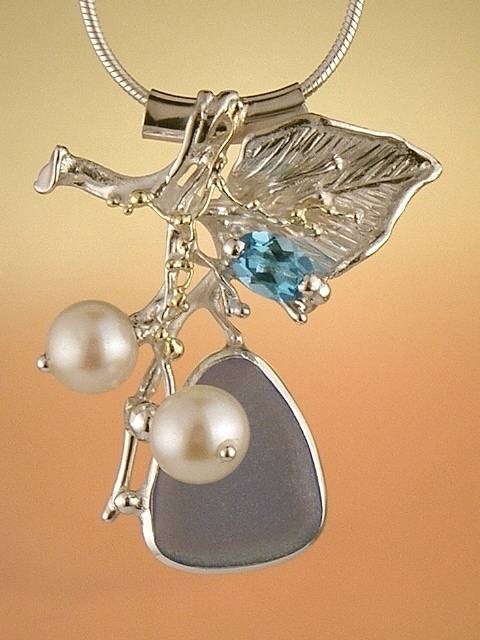 One of a Kind Handmade Pendant with Seaglass #8463
original handmade by the artist designer maker in sterling silver and 18 karat gold with sea glass, blue topaz, pearls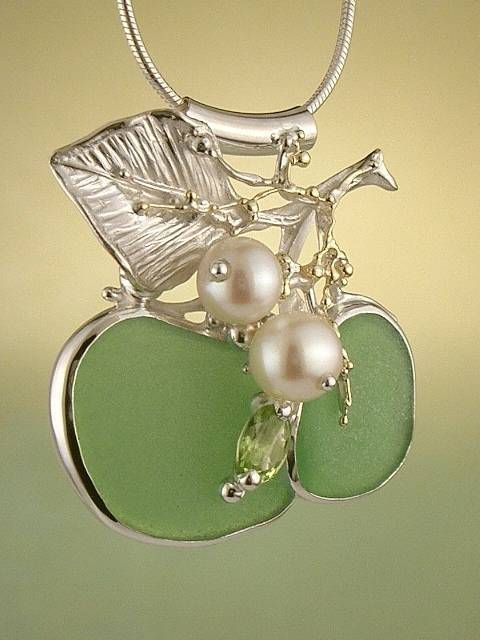 One of a Kind Handmade Pendant with Seaglass #2845
original handmade in sterling silver with soldered solid gold accents (safe to repolish), sea glass, peridot, pearls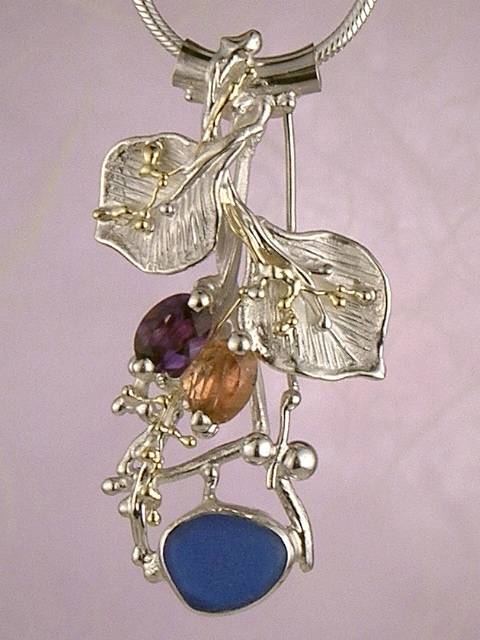 Gregory Pyra Piro Nature Pendant #8090
original handmade in sterling silver with soldered solid gold accents (safe to repolish), pink tourmaline, amethyst, sea glass
One of a Kind Handmade Ring with Seaglass #6043
original handmade in sterling silver with soldered solid gold accents (safe to repolish), blue topaz, peridot, sea glass
One of a Kind Handmade Pendant with Seaglass #1846
original handmade in sterling silver with soldered solid gold accents (safe to repolish), peridot, green sea glass, pearls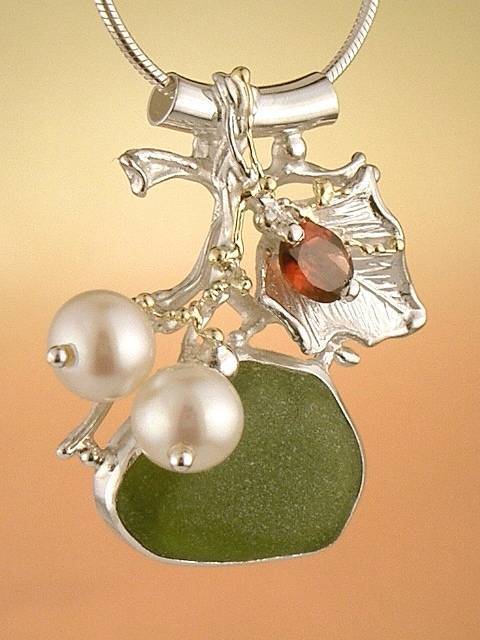 One of a Kind Handmade Pendant with Seaglass #9583
original handmade in sterling silver with soldered solid gold accents (safe to repolish), garnet, sea glass, pearls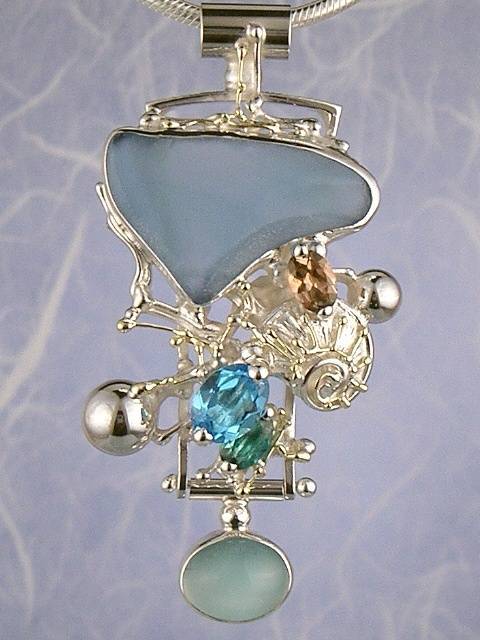 One of a Kind Handmade Pendant with Seaglass #6750
original handmade in sterling silver with soldered solid gold accents (safe to repolish), pink tourmaline, green tourmaline, blue topaz, moonstone, sea glass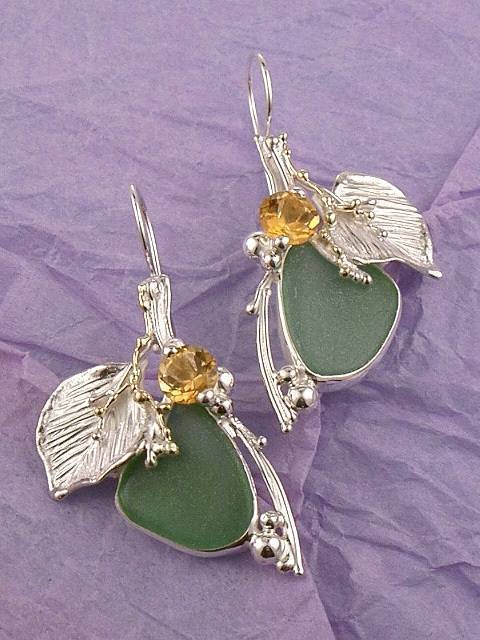 One of a Kind Handmade Earrings with Seaglass #4580
original handmade in sterling silver with soldered solid gold accents (safe to repolish), citrine, green sea glass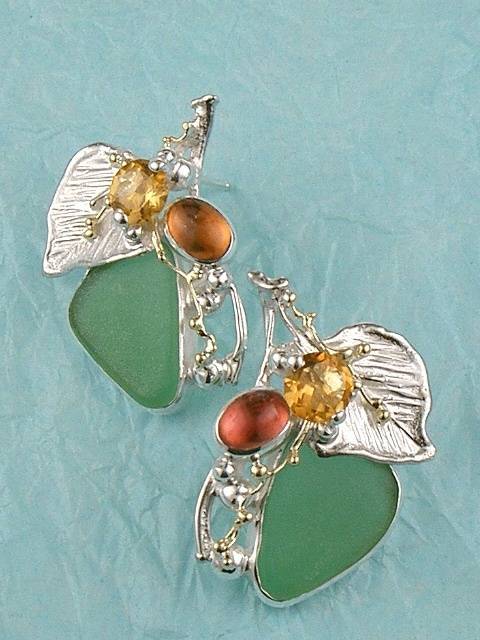 One of a Kind Handmade Earrings with Seaglass #4570
original handmade in sterling silver with soldered solid gold accents (safe to repolish), pink tourmaline, citrine, green sea glass
back to top
Copyright © designerartjewellery.com
All Rights Reserved