Art Jewelry, Glass Jewelry, Jewelry Artist, Gregory Pyra Piro, Design Collection with Glass
Gregory Pyra Piro
Ring #3624
sterling silver and 14 karat gold, facet cut garnet, facet cut citrine, artist cut blue glass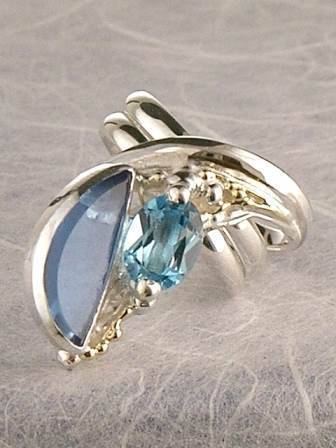 Gregory Pyra Piro
Size Adjustable Ring #6754
sterling silver and 18 karat gold, blue topaz, blue glass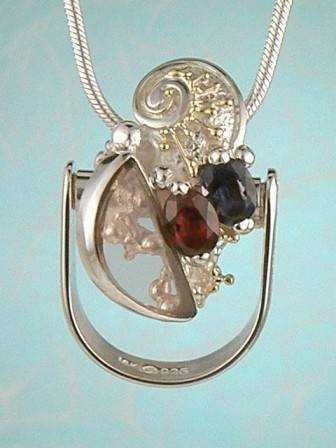 Gregory Pyra Piro
Ring Pendant #3052
sterling silver and 18 karat gold, iolite, rhodolite garnet, cut glass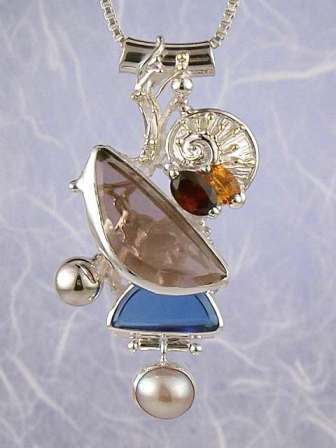 Gregory Pyra Piro
Pendant #7854
sterling silver and 18 karat gold, garnet, citrine, glass, pearl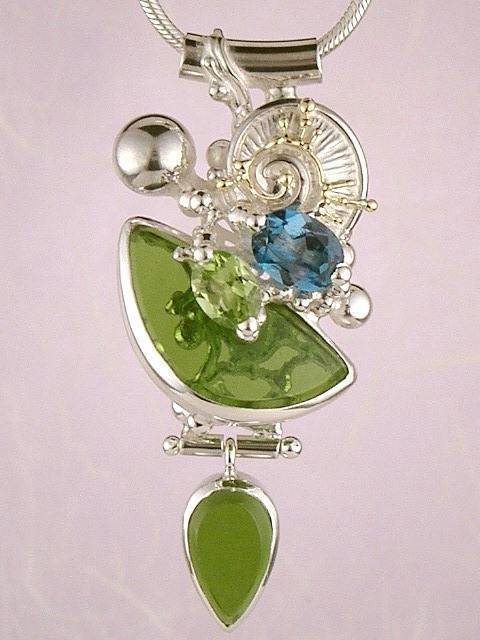 Gregory Pyra Piro
Contemporary Pendant #9100
sterling silver and 18 karat gold, blue topaz, peridot, cut glass
previous page
next page
back to top
Art Jewelry, Glass Jewelry, Jewelry Artist, Gregory Pyra Piro, Handmade Jewelry, Handcrafted Jewelry, Handcrafted Ring, Handcrafted Bracelet, Handcrafted Pendant, Glass Art, Glass Jewelry Design Collection with Glass
Keep up with updates of Piro unique art jewellery
Today glass jewelry may be popular among craft galleries, craft shops, in art jewelry or craft jewelry and craft artists. Fine jewelry is as always popular in sterling silver and solid gold. Piro mixes the two and creates his own design style. On this page there are a few pieces that are in sterling silver and 18 karat gold with pearls and gemstones and glass in each design piece. The glass is cut by the jewelry artist. The art jewelry designs by Piro with glass have a special unique mix of facet cut semi precious and facet cut precious stones where one can see amethyst, blue topaz, citrine, garnet, peridot, tourmaline, and small diamonds with glass. This is something of a unique feature in Piro art jewelry as the cut glass is often mixed with these gemstones. The cut glass in Piro art jewelry creates a nice effect that casts its own color light onto the sterling silver or gold part of the piece. When looking at any Piro pendants, rings, earrings, or bracelets that have the cut glass, the metal part may have a color tint when put under light because of the glass above it.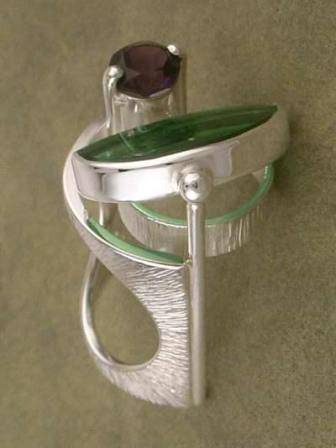 Note how green light from the green glass appears on the sterling silver metal near top of the ring right under the green glass top.
Gregory Pyra Piro art jewelry designs are made in sterling silver and 18 karat gold, and the rings, pendants, earrings, brooches, and bracelets are mixed metal rather than just silver or gold. Most jewelry manufacturers, designers, and even artists today who work in gold and silver work in wax that produces molds for casting. And many silver jewelry artists, work with wire jewelry. Gregory's jewelry, not only that it is different, but it is made in a unique way. Some components are handmade with tools and some parts of the pieces are made with a torch. These are unique techniques that jewelry artists in Europe used to work with before many jewelry artists and jewelry designers have switched to wax work and casting. Though there are limitations to work with these techniques metals like white gold, it is possible to work with these techniques in sterling silver, yellow gold, and pink gold. But what is most important is that with the techniques which Gregory works with, it is only possible to make one of a kind jewelry.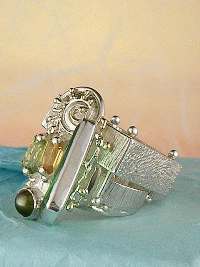 In this cyber ring green light is on the sterling silver and gold from the green glass top.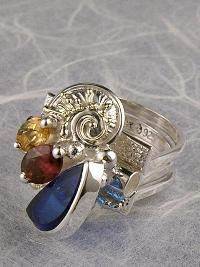 In this stack ring, the blue glass casts blue light onto the sterling silver (lower right corner of ring).
Bookmark Our Site!
Keep up with updates of our works
on Google +
Follow us on Twitter
Follow us on Pinterest
Make friends with us on Facebook
Subscribe to us on Youtube
about the artist
Gregory Pyra, an international jewelry artist, has been creating his work in different countries, some which include: Poland, Germany, Sweden, and the United States. Born in Poland in the 1950's, Gregory began creating art jewellery from a very young age. So this is how you would know that what he does cannot be something that everybody else could learn to do. Gregory was one of the first Polish artists in Poland who added gemstones such as amethyst and garnet to amber jewellery made in silver. Some of his early design pieces are shown here on our website. These pieces are also published in books. And some of these pieces are shown today in in museums such as the Malbork Castle Museum, in Malbork on display, and the Amber Museum in Gdansk in Poland on display, and the Pforzheim Jewellery Museum, if Pforzheim has Gregory's rings in their archives. In the 1970's Gregory emigrated to Sweden where he made pieces which were purchased for the Royal family, for King Carl XVI Gustaf and Queen Silvia in 1976 after his work was shown in Tidö Slott, in Tidö-Lindö, Sweden. In 1981 when Gregory emigrated to the United States his jewellery got an upgrade from just sterling silver to sterling silver and gold. And instead of amber, faceted gemstones were now one of the jewellery's main features. To the gemstones Gregory added additional components such as sea glass, sea shells, glass, and pearls. And once again, this wasn't just jewellery, but it was art jewellery. After living in the United States for a number of years eventually Gregory decided to return home to Europe. Today Gregory's art jewellery is shown on different social media and on our website.
About the jewelry
About Piro Art Jewellery
A work of art that is comfortable to wear. Our website is full of images that can best describe it. To see it best is to browse as many pages of our website as possible. This jewelry is so different that it should never be confused with other jewelry.
How much does it cost?
Gregory Pyra Piro art jewelry is probably the best price in this class. For a slightly higher price than a handmade sterling silver piece you get a sterling silver original handcrafted piece with solid gold work over it. The solid gold addition is solid gold and not plated gold like is found in some other artist's jewelry and production jewelry. It is worth much more than many people have bargained for.
How can you order?
The best way to order is to just contact the artist.
bracelets
pendants
rings
earrings
leaf design
seashell design
gemstone selection
other collections
----- Our Links -----
If you manage a website and would like to exchange links with us here is our html code
<a href="http://www.designerartjewellery.com/newglassart.htm > Hand Crafted, Designer Jewelry, Art Jewelry, Jewelry Artist, Gregory Pyra Piro, Design Collection with Glass. </a> - > Handcrafted Jewelry, Handcrafted Ring, Handcrafted Bracelet, Handcrafted Pendant, Glass Art, Glass Jewelry.
Art Glass For Sale, Handcrafted Home Decor Items, Contemporary Art Glass - Glamorous glass - contemporary art glass, handcrafted home decor items, colored glassware, blown & fused glass art. Buy now, ships fast!
Copyright © designerartjewellery.com
All Rights Reserved