Jewelry Artist, Gregory Pyra Piro, Art Jewelry Handwork, Nature Rings Handmade, Hand Crafted, Designer Art jewelry
Size Adjustable Ring #6520
sterling silver and 18 karat gold, garnet, pearl
Nature Leaf Ring #5842
sterling silver and 18 karat gold, pearls
Size Adjustable Ring #6849
sterling silver and 18 karat gold, garnet, green sea glass
Nature Leaf Ring #9743
sterling silver and 18 karat gold, pearls
Nature Leaf Ring #2843
sterling silver and 18 karat gold, pearls
Nature Leaf Ring #8643
sterling silver and 18 karat gold, green tourmaline, pearls
Amber Ring #5943
sterling silver and 18 karat gold, amber, pearl
Nature Leaf Ring #6543
sterling silver and 18 karat gold, amber, peridot
Size Adjustable Ring #5637
sterling silver and 18 karat gold, blue topaz, pearl
Gregory Pyra Piro Nature Rings
One of the ring styles in Gregory Pyra Piro art jewelry are the nature rings or leaf rings. The Piro nature rings are made from sterling silver and 18 karat gold. The leaves are made from sterling silver and have 18k Gold accents which run across the leaves. If you see nature ring style #5012 shown on the right, it has the 18k Gold accents run across the piece. Another unique feature in Gregory's handmade jewelry are the way the facet cut gemstones are combined with pearls and other items used by jewelry artisans such as glass, sea glass, drusy, and amber. If you see nature ring style #8, it has a facet cut peridot with amber. This and other such unique combinations is what makes Gregory Pyra Piro art jewelry very unique.
Designer Jewelry, Leaf Jewelry, Nature Rings
Designer jewelry by the Piro Group and jewelry designer artist Gregory Pyra Piro in sterling silver and 18 karat gold includes pieces such as bracelets, watches that are also bracelets, and many other combination pieces like ring pendants, which double up as both pendants and rings, stack rings, and rings of many different shank base designs like the band rings, nature rings, c rings, spiral rings, square rings and petite rings. Piro can make matching earrings or any other pieces that will make sets if requested. The art jewelry designs by Piro have a special unique mix of facet cut semi precious and facet cut precious stones where one can see amethyst, blue topaz, citrine, garnet, tourmaline, and small diamonds with materials such as opal, ammonite, amber, glass, sea glass, mother pearl, and pearls.
previous page
next page
back to top
Would you like to order any of these jewellery pieces?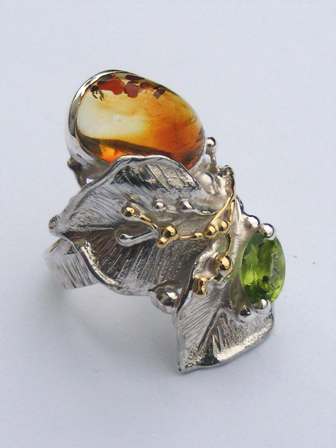 Designer art jewelry nature rings by Piro in sterling silver and 18 karat gold with a combination of Baltic amber and facet cut peridot gem stone. Such a design combination can make a great design.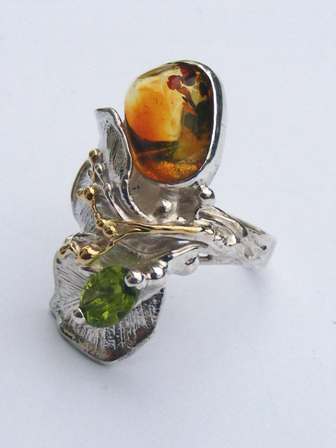 Handcrafted original design jewelry ring piece such as the leaf ring design #8 stands out in originality from both fine jewelry and amber jewelry and is different from anything on the market. Although nature pieces with leaves, amber, and peridot separately are popular and are in fashion. But Piro puts all three together in one piece, as is usual in Piro designer art jewelry.
----- Our Links -----
If you manage a website and would like to exchange links with us here is our html code
<a> href="http://www.designerartjewellery.com/naturerings.htm </a> Designer Jewelry Artist Gregory Pyra Piro, Gabriel Pyra, and The Piro Group </a> - Original Handmade Jewelry, Nature rings, Leaf Rings, Leaf Jewelry.
Mielle Harvey - Multi-medium Nature Artist HEXAPODA - Nature-related artwork by Mielle Harvey Sterling Silver Rings : Sterling Silver Rings.com.au offers a stunning range of Sterling Silver Rings, Gemstone Rings and Silver Rings and all at very affordable prices backed with excellent service.